Fabrication to Casting: Steam Trap re-design creates market leading solution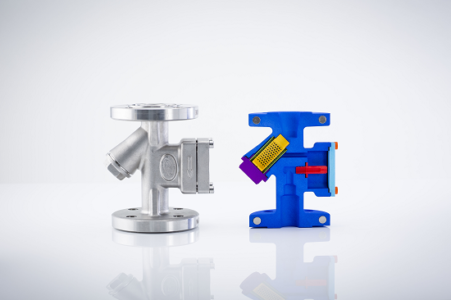 As specialists in the conversion of fabrications and assemblies to single cast components, NovaCast is cutting costs and improving efficiency for its customers. One such customer is EBE Engineering; manufacturers of an innovative Venturi Orifice Steam Trap. Originally a fabrication comprising a cast stainless steel body with two welded flanges; the steam trap was slow and expensive to manufacture.
Working closely together, the engineers at EBE and NovaCast developed and refined the casting geometry using 3D modelling and casting simulation software. A 3D printed prototype was then produced prior to full Stainless Steel production samples being commissioned. The combination of advanced computer modelling and 3D printing eased the process of developing, testing and refining the casting geometry and saved both time and cost.
The objective was to take an already successful product and to refine its design and manufacture in order to deliver a market-leading solution. According to Nigel Egginton, MD at EBE Engineering, the newly developed ECOFLOW Venturi Orifice Trap achieves all of his most exacting requirements and more. The new trap body, including the flanges in the EFK-F version, is investment cast in one piece using CF8 Staineless Steel giving it consistent strength, resilience and dimensional accuracy. The body is now totally homogenous making it physically stronger and safer as all welding has been eliminated. This also simplifies certification, speeds up production and ensures repeatable, high quality.
From a commercial perspective, the new steam trap delivers the same technically advanced solution that its predecessor did but in a fully integrated flanged form that exactly meets market requirements. The streamlined manufacturing process enabled by the new design also allows EBE to pass on the benefits of economies of scale to its customers. As Nigel Egginton confirms, "Instead of 'single manufacture many times', we are now able to assemble and supply multiple units very easily. The enhanced scalability offered by the new design gives us far more scope to offer volume discounts to our customers".
Ultimately, the decision to re-evaluate every aspect of the trap design and manufacturing process and the willingness to work closely with a foundry highly experienced in converting complex fabrications into castings has resulted in a truly unique solution delivering exceptional performance to EBE's customers as well as commercial competitive advantage for the company.
For advice, a competitive quote or just to discuss your requirements, call a member of NovaCast's team on +44 (0) 1225 707466, send us a message here or email sales@novacast.co.uk.