NovaCast supports Wiltshire Air Ambulance Night Vision Goggles Campaign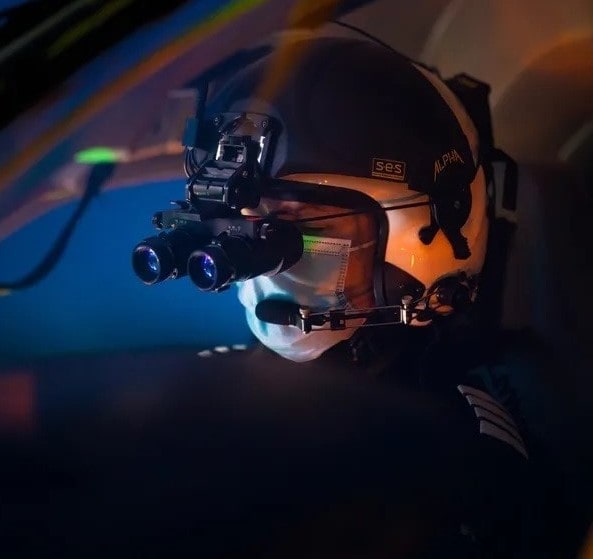 NovaCast has been a keen financial supporter of Wiltshire Air Ambulance for several years now through monthly donations and fund-raising events organised by Directors and employees. In addition to understandably high regular running costs, Wiltshire Air Ambulance requests support for specific projects that are essential to the continued operation of this life-saving service.
The current area of concern relates to the 4 sets of NVGs (Night Vision Goggles) Wiltshire Air Ambulance currently has, which are old and becoming obsolete. This means they are starting to break, and the spares are not available to fix them. Operating at night, in very challenging flying conditions, isn't an option so the number of hours the helicopter can operate is severely restricted. In the winter months by as much as 10+ hours a day could be lost.
Wiltshire Air Ambulance needs to purchase 4 new sets of Night Vision Goggles. 3 pairs for the operational crew plus a spare to cover when a set goes away for servicing. These sets will be of a newer generation of image intensification which work better on those nights when there is no moonlight, and the cloud cover prevents starlight. They will also be more reliable, this is crucial for safety, capability and to keep the crew flying for 19 hours a day.
NovaCast's donation of £1,000 will be enhanced by match-funding from the Wiltshire Match Fund, set up by a local philanthropist to support charities in Wiltshire. When gift-aid is added, Wiltshire Air Ambulance will benefit by £2,250. As Richard Phillips, Sales Director at NovaCast commented; "This is such a worthy cause and a vital service that is there for the whole community. We are delighted to continue our support and to help raise awareness of this vital service whenever we can"
You can find out more about and support the work carried out by Wiltshire Air Ambulance by visiting their website: www.wiltshireairambulance.co.uk.